This tab includes the most key features to view and update your proxy settings.
Proxy #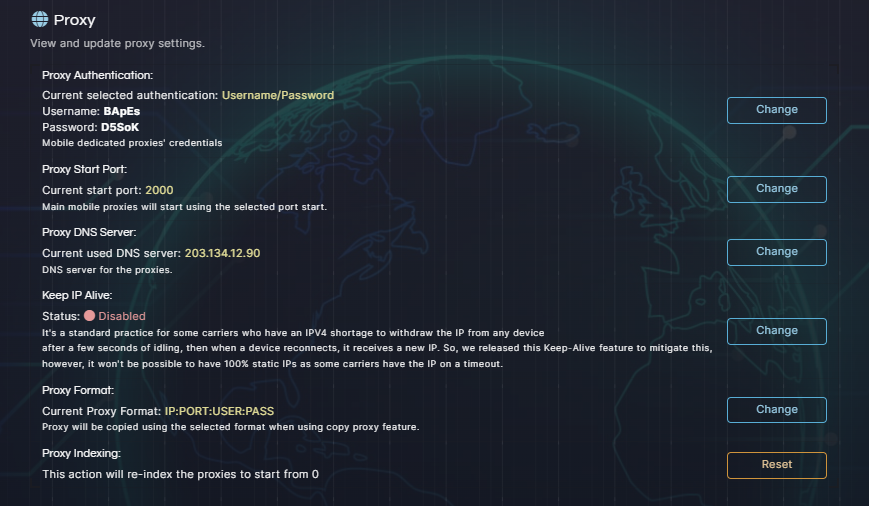 Proxy Authentication: Choose between Username/password or IP address authentication. By default, username/password authentication is selected.
Proxy Start Port: Change the proxy start port. By default proxy port starts from 2001.
Proxy DNS Server: Set the default DNS server for proxies.
Keep IP Alive: It is a standard practice for some carriers who have an IPV4 shortage to withdraw the IP from any device after a few seconds of idling, then when a device reconnects, it receives a new IP. So, we released this Keep-Alive feature to mitigate this, however, it won't be possible to have 100% static IPs as some carriers have the IP on a timeout. This feature is disabled by default.
Proxy Format: Choose between IP:PORT:USER:PASS and USER:PASSWORD@IP:PORT depending on your use case. By default, the format is IP:PORT:USER:PASS.
Proxy Indexing: This action will re-index the proxies to start from 0
Proxy Rotation #

Automatic Rotation: Change automatic rotation interval to days/hours/minutes. The default is 0 Days which means no automatic rotation is configured.
Dashboard #

Dashboard Login: Change dashboard's login credentials.
API: View or change dashboard's API's authentication token.
Server #

Remote Support: View or generate remote support session with random credentials.
Update: Push the latest updates to your hosting device.
Reboot: This action will reboot the server.