Today, we are happy to announce that we have open-sourced our Proxidize Android Legacy app that lets you generate a 4G/5G mobile proxy from your Android phone. The Android app is all that you need to make your mobile proxy, there is no additional hardware or software required. Proxidize Android Legacy is completely free to use and fully open-source, so you are welcome to use it for your own projects as well.
With the Proxidize Android app, you can:
Create a Mobile/Residential HTTP proxy on Android, Mac OS, or Windows Devices (iOS not supported)
Connect to mobile data while using the app to generate a 4G/5G mobile proxy
Connect to WIFI while using the app to generate a residential proxy
Rotate the IP automatically or manually
Add custom tunneling servers
Why we decided to open-source the Android app
Our mission at Proxidize is to democratize access to the highest-quality proxies, web data, and automation. We initially created Proxidize Android as a proof of concept for our current product, the Proxidize Mobile Proxy Maker (MPM). The app did its job and was later taken down from the Google Play store.
However, with some recent developments in the proxy industry and more and more illegal and shady botnet apps popping up, we decided to publish the app again and open-source it to the public. We are very certain that this is the best thing that we can do to prevent proxy users from falling for malicious services. If you want to read more about this, we have covered this topic in a recent blog article.
We are betting on using mobile phones for proxies and will soon release Proxidize Portable, a much more extensive mobile app that will be maintained by our team, includes product support, and will be fully compatible with our Proxidize platform. So stay tuned for that!
Steps to create your 4G/5G Android proxy
Without further ado, let's look at how you can get started with the Proxidize Android app.
1. Download the Proxidize Android App
First, you need to download the Proxidize Android app. Go to our GitHub repository and click on Direct Download Android APK File. We recommend opening the page directly on your mobile phone so that you don't have to transfer the files from your computer to your Android phone.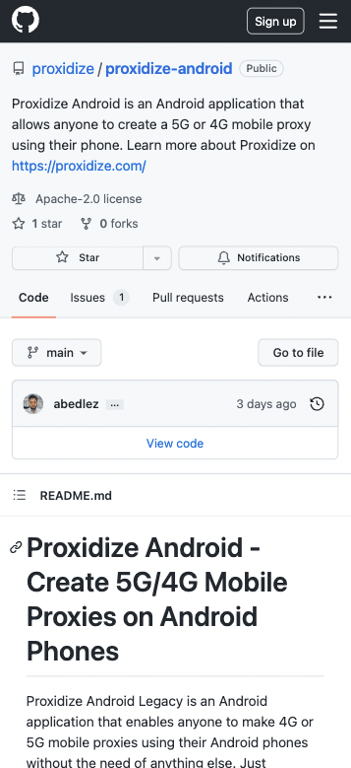 Please note that the Proxidize Android app is not available to download from the Google Play Store, as it was falsely flagged positive as a Potentially Unwanted App (PUP). This is because it includes a local proxy server, so at the moment download is only possible via GitHub.
2. Install the APK on your phone
Once the APK file download is completed, you need to install it on your phone. It could be that installing apps that do not come from the Play Store is not possible by default on your phone. But this can easily be changed. Here is documentation on how to Install APK on Android.
3. Open the Proxidize app
After successful installation, open the app and click Connect. From there, you can copy the proxy to your clipboard and use it somewhere else.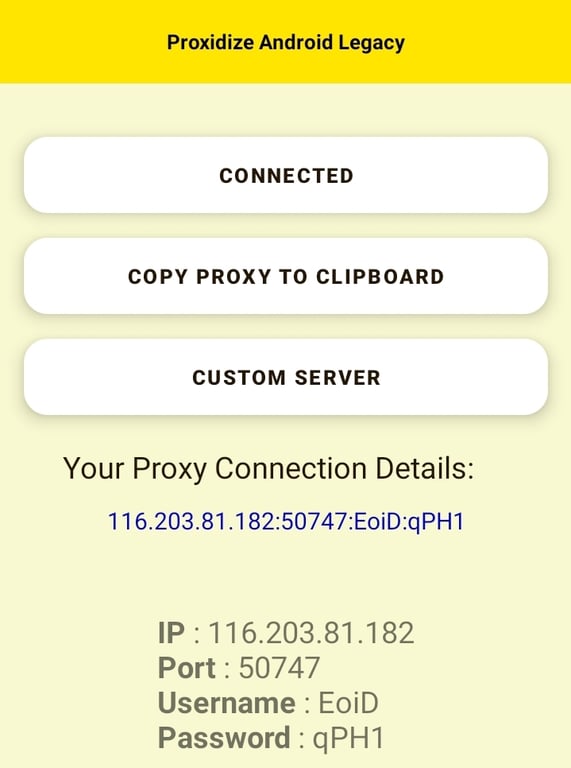 4. Rotate and change IP addresses for your mobile proxy
The easiest way to rotate the IP of your mobile proxy is to turn your Airplane mode on and off again. Every time the device reconnects to the mobile network, it gets a new IP assigned by the network operator. And since you are using your phone as a proxy, your proxy has a new IP now.
Some apps can automate this part and turn Airplane mode on/off at a pre-defined time interval, like MacroDroid. You can download MacroDroid directly from the Google Play store.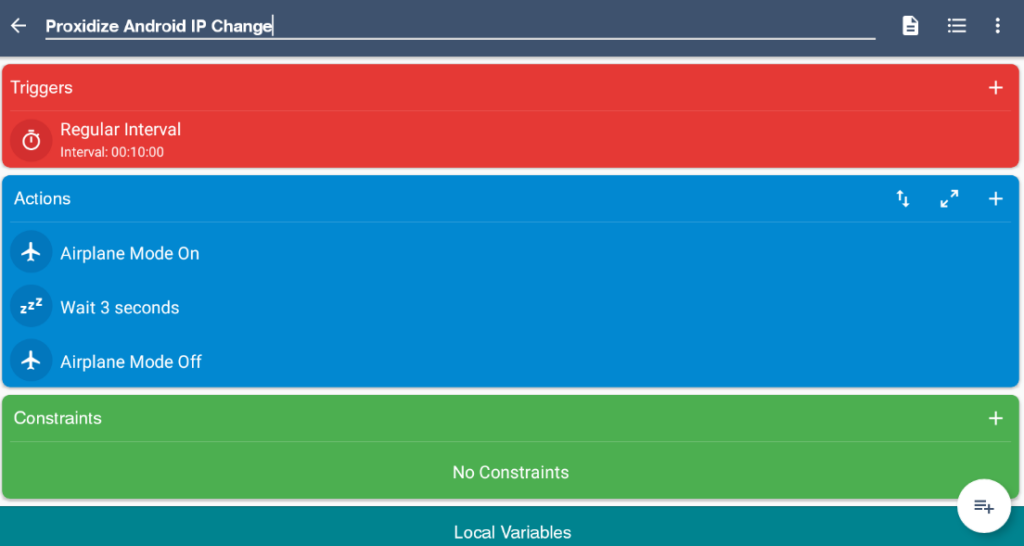 Here is how to do this once you have installed MacroDroid on your phone:
Open the MacroDroid app
Create a new macro and name it "Proxidize Android IP Change"
Go to settings > Assistant Settings > Default assistant app > Set "MacroDroid" to be the default assistant app
Add a trigger for "Regular Interval" and set it to whatever interval you want for your IP rotation
Add actions "Toggle Airplane Mode on" + "Wait X seconds" + "Toggle airplane mode off" (Please replace "X" with whatever interval you need)
Save the macro
That's it, your Android proxy is ready to use now! If you want to see more information about supported Android versions and devices, how to deploy your own server, or how to contribute to the project, please check out our full documentation on GitHub.
Proxidize Android Legacy vs Proxidize Mobile Proxy Maker
It is important to mention that we are not replacing our Proxidize Mobile Proxy Maker (MPM) with the Android Legacy app, or even with the upcoming Proxidize Portable app. Proxidize Android Legacy is an open-source app for personal use, but no commercial-grade solution like Proxidize MPM. This is because:
Apps like Proxidize Android Legacy are not as reliable since the underlying infrastructure is not made for proxies, but IoT devices
Apps like Proxidize Android Legacy achieve much lower speeds since incoming and outgoing traffic passes through the same network interfaces. Proxidize MPM is more than 5x faster, which is crucial for commercial use
Apps like Proxidize Android Legacy are not manageable at scale, because setup and maintenance are much more time-consuming than with Proxidize MPM, which can be set up in less than 10 minutes
The App is open-source, so we won't be able to provide updates and support with SLAs as we do with our Proxidize MPM
What's next?
Now you are ready to use your Android phone as a mobile proxy! If you found this helpful, we would very much appreciate your support on GitHub or our other social media channels! If you never want to miss an update from Proxidize or want to be notified as soon as Proxidize Portable launches subscribe to our free newsletter!