Our ultimate goal at Proxidize is to promote the ethical usage of mobile proxies for users worldwide. We understand the importance of data-driven insights and the value they bring to diverse industries such as marketing agencies, ticketing firms, and streaming services. And utilizing mobile proxies catalyzes the process of useful data scraping. Therefore, we created the Proxidize Android Legacy app as a free and fully open-sourced tool, accessible to all, to further our mission of democratizing mobile proxies, web scraping, and automation.
The Proxidize Android Legacy is a user-friendly application created by our team of developers at Proxidize. With this app, you can seamlessly turn your Android mobile devices to create a 4G/5G proxy with no additional hardware or software needed. We believe that by making our technology available, we can foster a more inclusive and ethical data ecosystem. 
Therefore, we encourage you to explore the Proxidize Android Legacy app to experiment, learn and contribute to the field of data collection and proxies. Whether you're a researcher, developer, or just a tech enthusiast, this app provides an opportunity to tap into the world of mobile proxies and delve into the various use cases they provide.
How Can You Turn Your Phone Into a Proxy?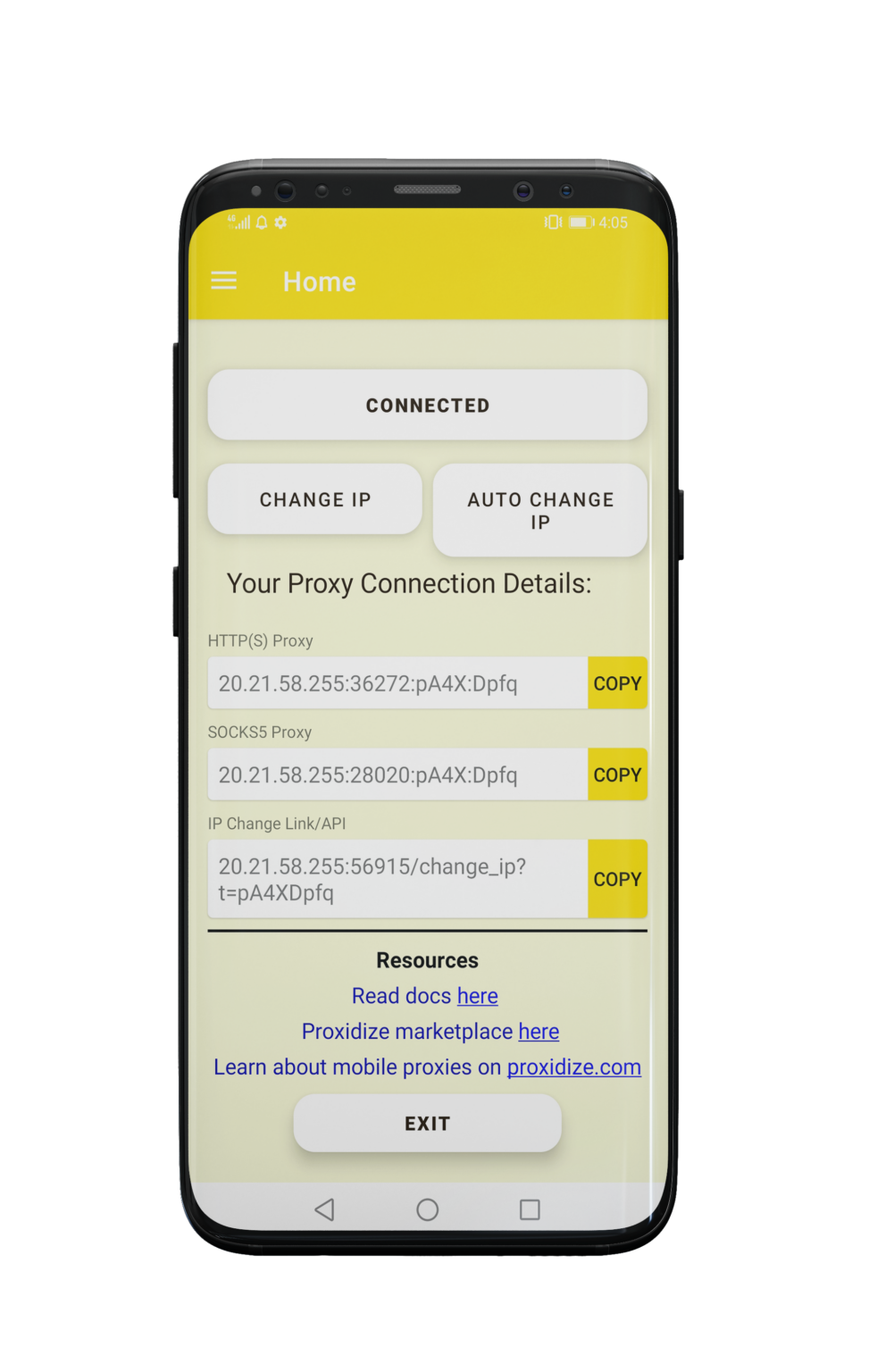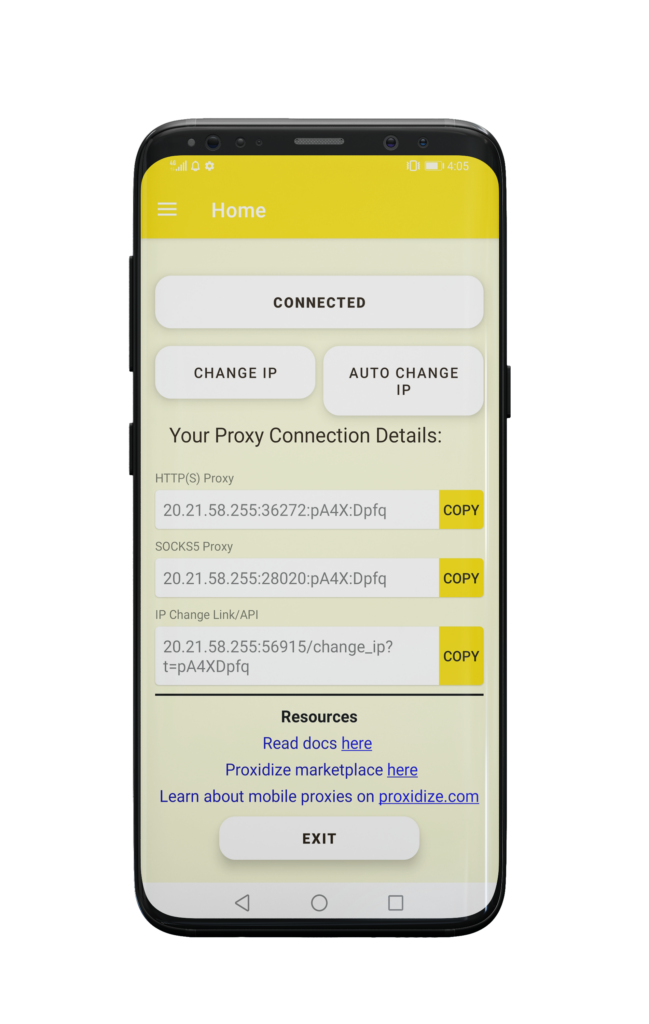 The process of converting your phone into a proxy using the Proxidize Android Legacy app is a simple one. In just five steps, you can easily transform your Android device into a reliable and secure mobile or residential proxy, equipped with a range of features, in a short amount of time.
Download the Proxidize Android Legacy APK file.
Install the APK file on your phone. Follow this documentation for a successful installation. Accessing your default assistant is a standard feature, and it poses no significant concerns.
Once the installation is complete, open the app and click Connect.
Copy the proxy to your clipboard and paste it where you need it.
How Can You Turn Your MacOS or Windows Into a Proxy?
With the Proxidize Android Legacy app, not only can you turn your Android phone into a proxy within minutes, but you can turn your MacOS or Windows device into one as well. The six following steps allow you to create your own mobile or residential proxy seamlessly:
Download an Android emulator on your device. (i.e: BlueStacks)
Download the Proxidize Android Legacy APK file.
Install the APK file on your device.
Open the app and click Connect.
Copy the proxy to your clipboard and paste it where you need it.
How To Rotate Your IP Using Your Phone as a Mobile Proxy?
Proxidize Android Legacy enables manual or automatic IP rotations for your device-generated mobile/residential proxy. It's an excellent feature for those looking to avoid IP bans and enhance their privacy.
How to Automatically Change Your IP: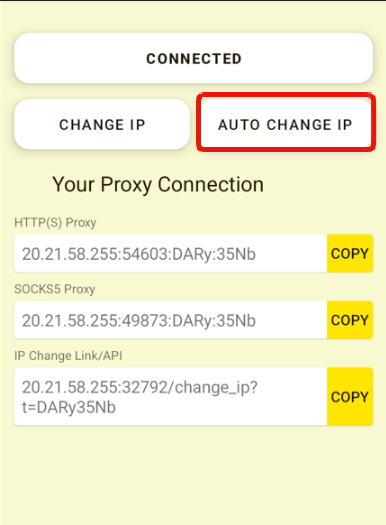 Click the Auto IP Change button on the Proxidize Android Legacy homepage.
Select your desired rotation interval.
Choose a time frame of at least 30 minutes, anything less harms your device.
Click Set to apply your IP rotation settings.
How To Manually Change Your IP: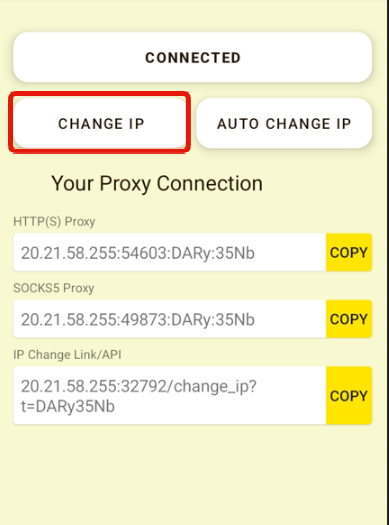 To manually change your IP address, all you need to do is click on the Change IP button. This button is designed to initiate the process of altering your current IP address to a different one. You can effortlessly update your IP whenever you need.
How To Change Your IP Using a Link/API: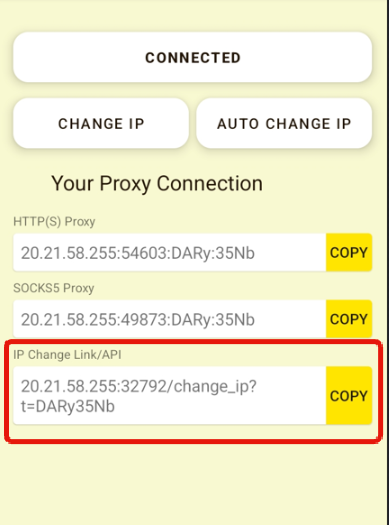 One of Proxidize Android Legacy's cool features is that it allows you to rotate your IP with an API link. You'll find the link on the homepage under the section IP Change Link/API. You can either press COPY to use the link, or directly send a GET request.
What Are the Features of Proxidize Android Legacy?
Proxidize Android Legacy is the initial version of our anticipated application Proxidize Portable, which will provide significant enhancements to our current solution. Nonetheless, our current app provides its users with a wide range of features that deems it useful to those wanting to experiment with mobile proxies.
Creating your own mobile device proxy for free.
Create a Mobile or Residential HTTP(S) and SOCKS5 proxy on Android, MacOS, or Windows devices.
Manual or Automatic IP rotation with a button.
An API link for rotating IP addresses.
The mobile app enables users to establish a mobile proxy through their cellular networks.
The app can be used to establish a residential proxy through a WiFi connection.
Global servers' management establishes quick load balancing.
Create a custom tunneling server for higher security and speeds.
How The Proxidize Android Legacy App Works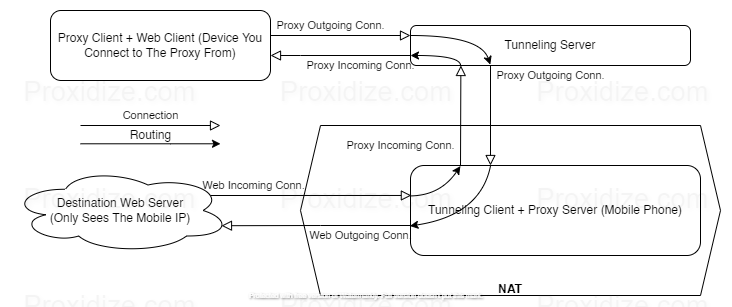 Proxidize Android Legacy operates by establishing a connection to a tunneling server through reverse proxies, enabling the launch of a local HTTP proxy server. This setup allows the proxy to be accessed from any location on the internet. The tunneling server takes care of port forwarding and routing, ensuring smooth connectivity.
Proxidize Android Legacy vs. Proxidize Mobile Proxy
It's critical to emphasize that the Proxidize Android Legacy app, even the upcoming Proxidize Portable, is merely a proof-of-concept, and is not intended to replace our robust on-premise mobile proxy servers. Proxidize's on-premise mobile proxy solutions offer advanced features, control, and scalability that are quite unmatched by any other residential or mobile proxy service. They are intended for the specific use cases of businesses and enterprises. Unlike the Proxidize Android Legacy or other apps similar to it, which are intended for personal use cases since:
They may not offer the same level of reliability due to their underlying infrastructure being primarily designed for IoT devices rather than proxies.
They have significantly reduced speeds as incoming and outgoing traffic goes through the same network interface.
Managing their scalability is difficult. While it takes 20 minutes to set up a 20 modem kit with Proxidize's on-premise proxies, it would take more than a day to set up 20 phones using the application.
Proxidize Android Legacy is an open-sourced application, therefore there won't be any frequent updates or customer service as with our on-premise mobile proxy network services.
Enhanced Protection: Open-Sourcing Our App for Your Security
To conclude, the decision behind open-sourcing our app for free stems from the rise of illegal and suspicious botnet applications. Our utmost mission is to protect proxy users from falling for malicious services, which unfortunately has been the case for many. Therefore, at Proxidize, our ultimate goal is to provide safe and ethical access to the proxy realm. For more technical documentation on Proxidize Android Legacy, such as how to deploy your own server, or use the app without a tunneling server, be sure to visit our Github.
We are placing our trust in the use of mobile phones for proxies and have an exciting update coming soon. We will be launching Proxidize Portable, a robust mobile app that offers extensive features, ongoing maintenance by our team, dedicated product support, and seamless compatibility with our Proxidize platform. Keep an eye out for more updates!