The anti-detect browser market is still developing in comparison to the proxy market, and AdsPower is one of its few well-known players. This anti-detect browser is quite different from many of its rivals in how it goes about things, and this isn't entirely unrelated to its past as a Facebook ads management product before becoming a fully-fledged multiple browser profile creator for multi-accounting and account management.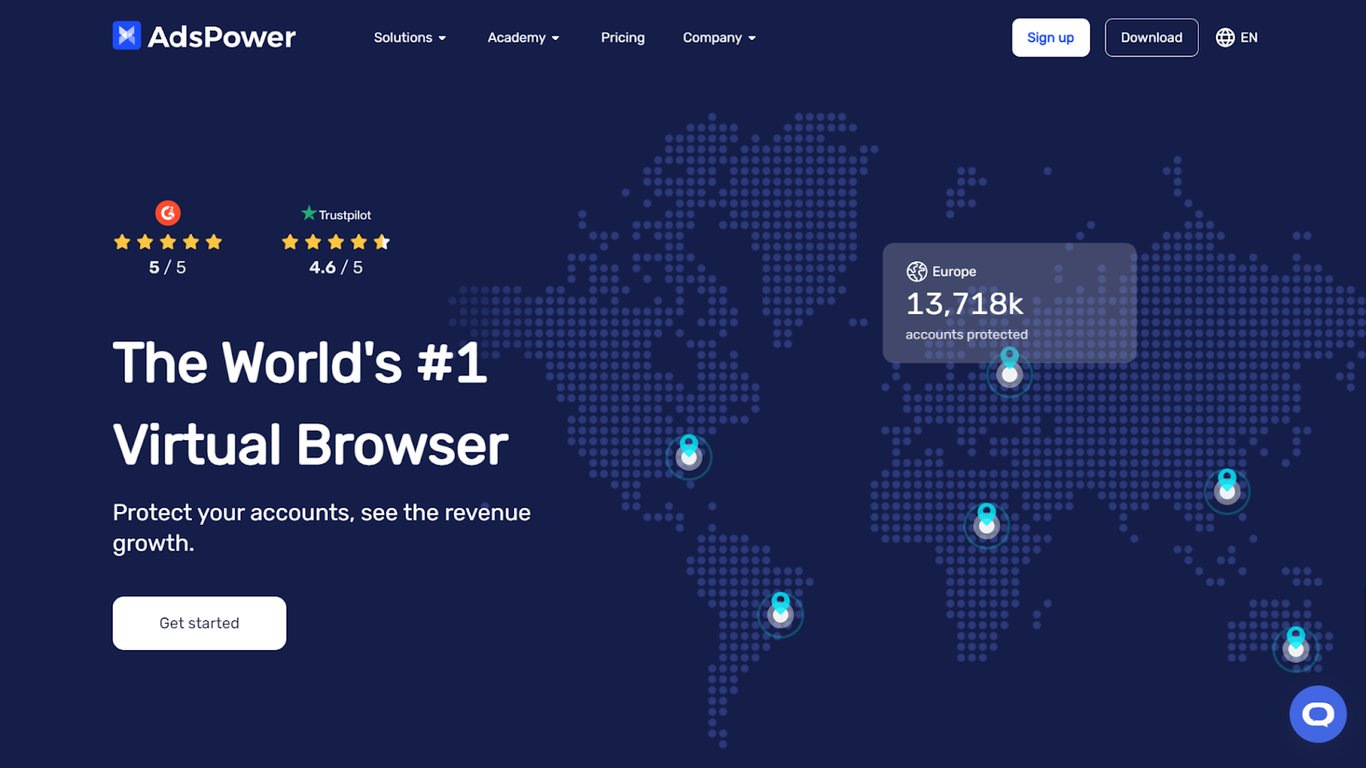 In this article, we'll examine the AdsPower browser to help prospective marketers decide if it's the best multi-profile browser for them.
What is AdsPower?
AdsPowerl is an anti-detect browser that enables you to manage multiple accounts by allowing you to create as many different and isolated browser environments as you desire. For example, AdsPower will create 500 browser profiles, one for each of your 500 Facebook ads accounts, if you have that many accounts.
The fact that each of these browser profiles has a unique browser environment with unique fingerprints, cookies, and local storage is quite intriguing. Also, it's interesting that AdsPower allows bulk account uploading across web services. A few features of AdsPower include support for extensions, team collaboration, operation tracking, and data encryption.
What is AdsPower used for?
AdsPower has a lot of use cases in modern Internet marketing. It typically gives you individual browser profiles and separate browser environments so you can safely and securely manage your multiple accounts on web platforms without anyone noticing. Some of the software's specific use cases are listed below.
Social media advertising
AdsPower evolved from being a browser for managing Facebook ad accounts to a general-purpose anti-detect browser. Social media marketing is still one of its most effective uses. And right now, managing ad accounts is one of its most common use cases. Additional use cases related to social media ads include managing multiple social media accounts, and verifying ad placements and variations across geolocations without getting banned are additional use cases related to marketing.
Affiliate promotion
In affiliate marketing, the use of multiple accounts is already commonplace. Having numerous accounts broadens your exposure and multiplies your opportunities. To better promote products, it is preferable to categorize them and use separate but related accounts to promote each one without using the same traffic.
Crypto
Multi-accounting is a smart way to increase your earnings, whether you are investing in IDO lotteries or simply want to increase your coin. You can make more requests and searches by using multiple accounts, which will increase your chances of being included on a whitelist for offers.
E-commerce account management
Managing multiple accounts is difficult for sellers on the majority of e-commerce platforms, including Amazon and eBay. Even with proxies set up, these sites have sophisticated systems for identifying multiple accounts. However, because each account will be using a different browser profile and have a unique fingerprint that can be customized to your preferences, AdsPower renders the efficient browser fingerprinting used in identifying blocking accounts useless. For PayPal and other payment services that you might require for your e-commerce platforms, AdsPower is also a good option.
AdsPower core features
Wide fingerprint options
AdsPower provides both Chromium- and Firefox-based browsers, in contrast to most browsers, which are based on either the Chromium engine or the Firefox engine. It has the advantage that you can select the engine that best suits your business. For instance, it would be worthwhile to try opening your Google ads accounts in AdsPower's Firefox browser since, in theory, doing so should make it easier for you to get around Google's anti-fraud system. Additionally, AdsPower provides frequent updates for both browsers to improve spoofing.
Automatic language detection
Automatic language detection is another key component of the AdsPower browser that you will like. Let's take the scenario where you upload a Facebook account and use a UK proxy. The proxy's geolocation will be automatically detected by the browser, and the language for that Facebook account will be changed to British English. Since small details matter to some services, like Facebook, this is an attempt to completely wipe out all traces.
Team collaboration
When it comes to efficient team collaboration, AdsPower is the best. It supports hierarchical team management, consisting of administrators, managers, and team members. Team members can be given authority and responsibilities, and you can even keep tabs on their actions using the operation logs. Since the browser profiles are actually saved in the cloud, this is possible. However, to secure the data, SSL symmetric encryption and 2FA methods are used.
Browser automation
AdsPower also includes support for automation. Without writing a single line of code, you can use the RPA robot (Robotic Process Automation) to automate the browser to perform some specific tasks for you. If you are a programmer, the API provided by AdsPower can also be used to automate web scraping tasks.
Extension support
AdsPower enables the expansion of functionality beyond that which already exists. This is supported by the fact that you can add helpful extensions to it in the Extensions section. You can create and upload your own extension if you are a programmer, or you can also simply upload a needed extension by uploading the ZIP file or uploading it from the Chrome store.
Helpful and responsive support
Customer service is another aspect of the AdsPower browser that turns out to be advantageous. To assist their customers or potential customers, they have customer care representatives on hand. Users are connected to a live person in no time and will be given the answer quickly. AdsPower is also one of the few antidetect browsers that offer multilingual support. Live chat is available in English, Russian, Chinese, and Vietnamese.
AdsPower pricing
AdsPower offers one of the most accessible and flexible pricing systems on the antidetect browser market. Let's take a look.
Pricing plans
AdsPower has a free plan, although it includes only 2 profiles. You will require more than two profiles for the majority of use cases, which is where the subscription plans come in. The Base plan, which supports a minimum of 10 profiles and a maximum of 1,000 profiles, is the smallest. The cost per month for 10 profiles is $9, and the cost per month for 1,000 profiles is $139. The plan is for one person, and an additional $5 fee is applied for each additional user. If you need more advanced features that are not supported by the Base plan, you'll have to subscribe to either the Pro or the Custom plan. A free 3-day trial is available for both the Base and the Pro plans.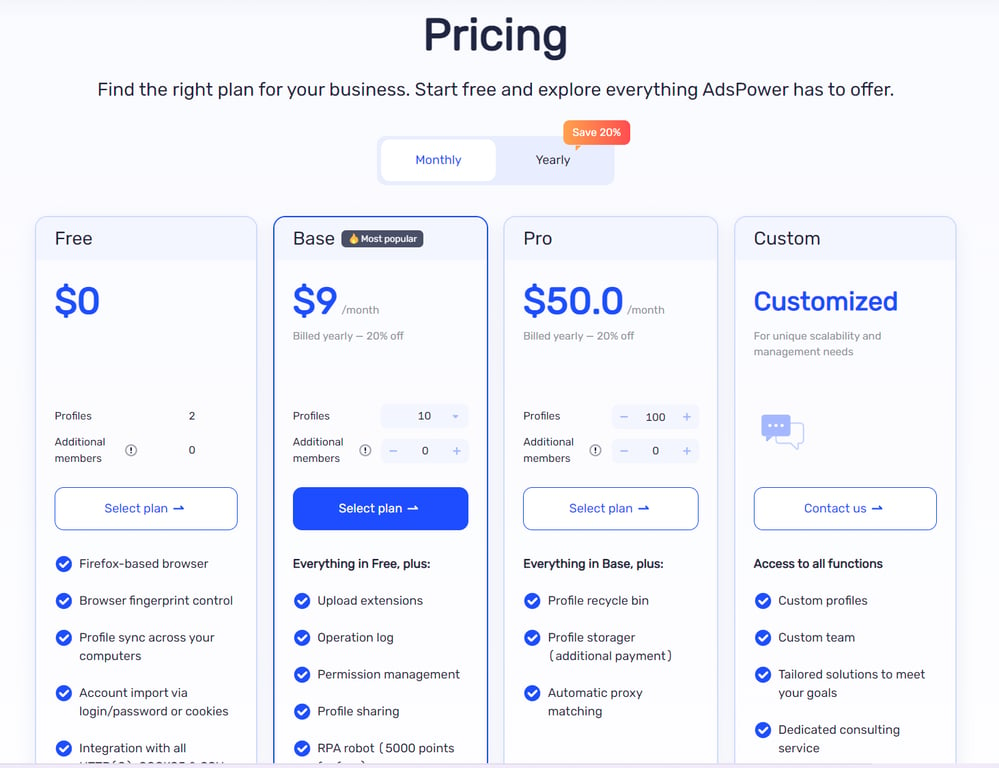 Payment methods
In terms of payment method support, AdsPower has one of the highest levels of extension support. PayPal, credit cards, and debit cards are all supported. American Express, WebMoney, and Trustly are other payment options. Additionally, it allows payments made in cryptocurrencies like Bitcoin and USDT. Fewer persons are excluded as a result of this.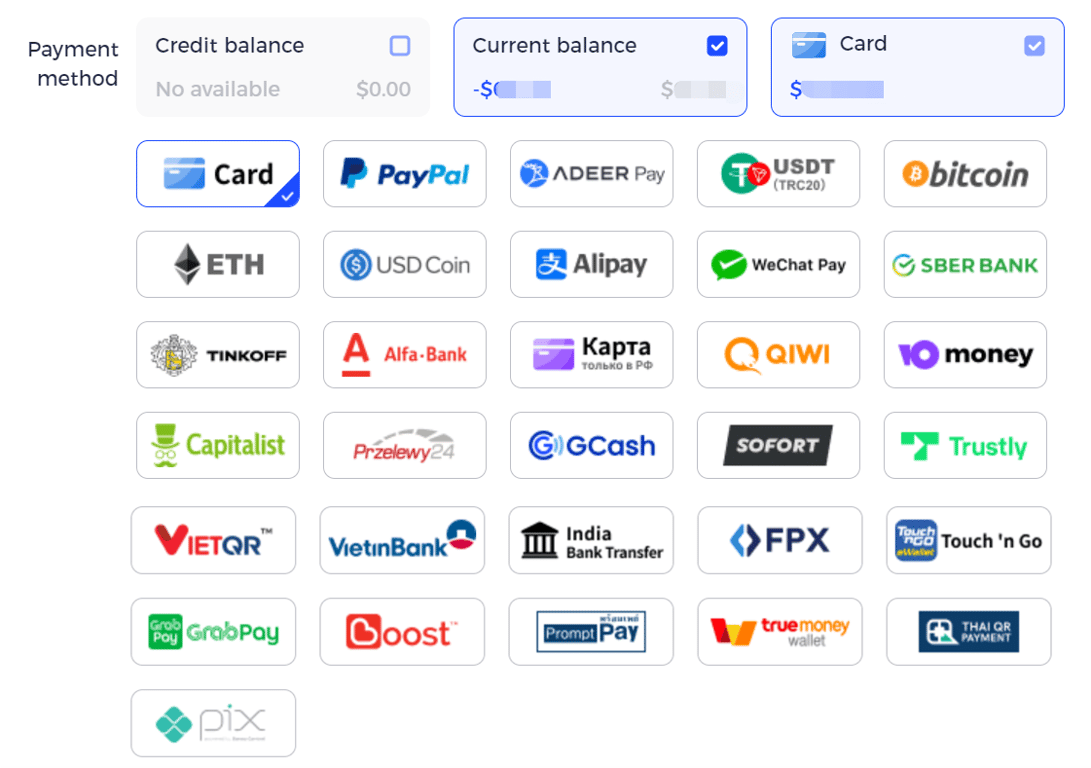 Conclusion
As you can see from the foregoing, the AdsPower browser does provide key advantages that let it compete in the market for multi-accounting browser software. AdsPower is a success, and the software is recommended if you need a tool to manage a batch of accounts without bans and red flags.