Big changes are coming?
You've been hearing about the "big thing" we've been working on, but what is it? Well, I am happy to tell you that we will soon announce Proxidize Next-Gen, an entirely new version of Proxidize built to provide you with the next generation of proxy network solutions.
Proxidize Next-Gen will have dozens of new features, but our real focus has been the user experience. We heard all your feedback and the new Proxidize will be more powerful, easier to use and more accessible.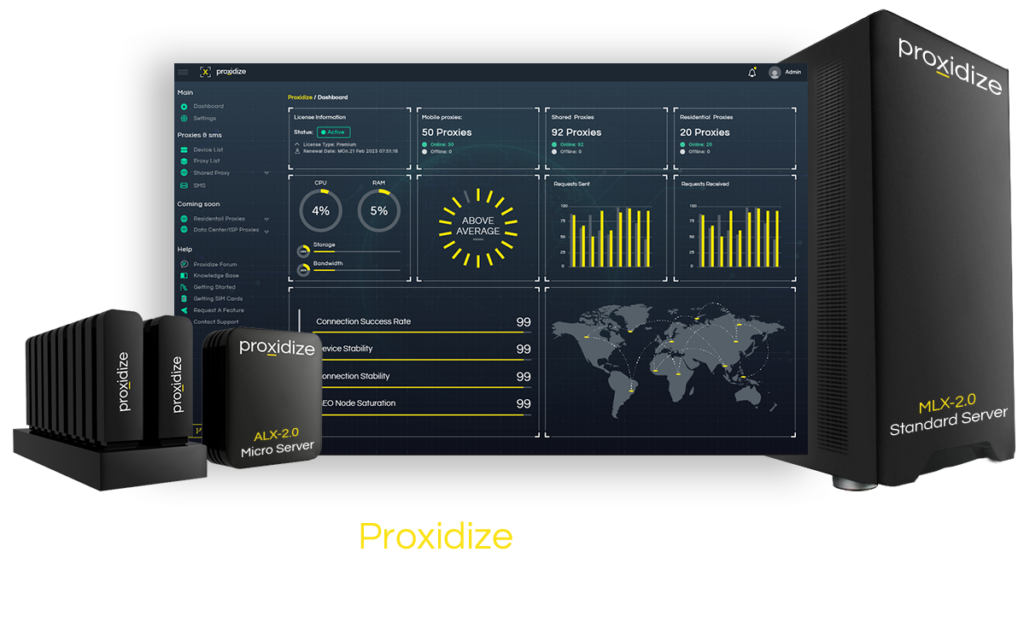 What are the changes?
We have dozens of features planned, but they won't all be released at the same time — we will be rolling out the noted below features over the next 24 weeks.
So what are these new features and changes? Let's see!
New Proxidize proxy features:
Generate real residential proxies with hundreds of threads, IPs, and GEOs.
Change proxy IPs instantly or every request.
Generate twice the number of mobile proxies.
Use Android phones or iPhones as modems in Proxidize.
Access your proxies from anywhere without port forward.
New Proxidize user experience improvements:
Identify the physical location of every dongle on the hub.
Change all modem settings from the Proxidize dashboard
See signal strength directly from your dashboard.
Manage all your USB modem settings from the Proxidize dashboard.
Manage all your Proxidize servers from a single interface on proxidize.com.
New Proxidize support improvements:
You will get 24/7 support.
You will get a dedicated account manager.
You will be able to contact support directly from your Proxidize on-premise dashboard.
You will get a complete knowledge base that has an in-depth explanation of everything.
New Proxidize improved access to SIM cards:
Use any mobile carrier with any plan.
Get SIM card deals with Proxidize.
Get SIM cards included in your Proxidize kit.
New Proxidize automation & data platform:
Using the upcoming Proxidize Session Manager, you can easily generate and manage mobile and web sessions from your dashboard.
Using the upcoming Proxidize Scripting Engine, you will be able to create your own bots and run them on Proxidize.
Using the upcoming Proxidize Scraper API, you'll be able to collect any data without having to worry about any emulation.
using the upcoming Proxidize Dataset Manger, you'll be able to edit, organize, import and export all your collected data in any format.
New Proxidize marketplace:
Sell your proxies with a single click on your Proxidize dashboard.
Expand your network by buying proxies from other Proxidize users.
Buy and sell bots or scripts directly on Proxidize.
Along with a few other things that we can't mention just yet 🙂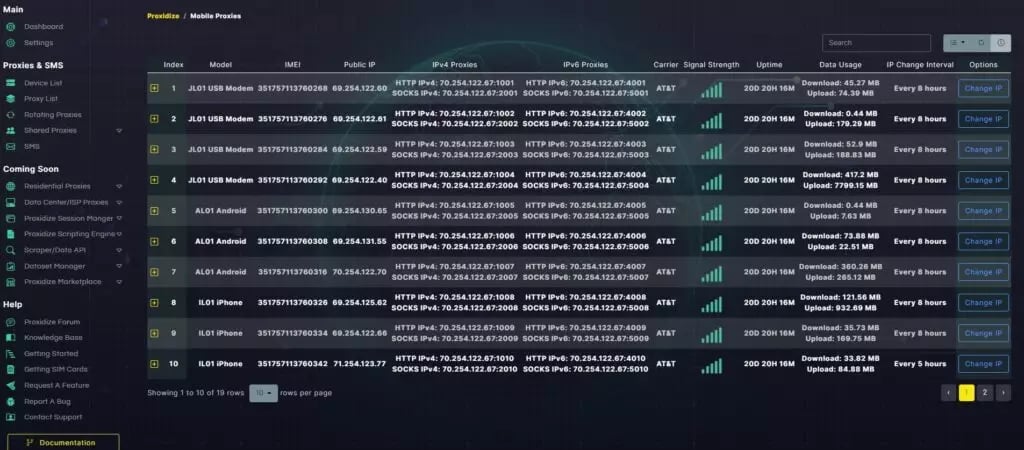 When is the release date?
As you can tell, we've been very busy working on the new platform for the last few months, and we know you can't wait to get your hands on it. Although there is no official release date yet, Proxidize Next-Gen will be released sometime in the next 2 to 3 weeks. So, it's closer than you think.
We will also be releasing the official announcement in a few days where we will announce the release date of Proxidize Next-Gen. The announcement will include a lot more than just the new features as there are a lot of other changes coming in regards to how we run Proxidize.

What happened to the Discord server?
Discord was instrumental in helping us stay closer to you, and we were happy to have every one of the 2,000 members there. Unfortunately, though, Discord has become rampant with spam, and it became something that no longer aligns with the values of Proxidize.
We always knew that as we grow and aspire to become a better company, we will need to move away from Discord and conduct our communication with you in a more professional manner. And now we feel as though that time has come. Therefore, we will handle all your support request via live chat right her on the website.
As always, if you have any questions, please do not hesitate to contact us. We are always happy to help with anything!